I can't think why this thread was left ....hanging?
Using Llewellyn's more detailed description I envisaged the bruises as being located thus: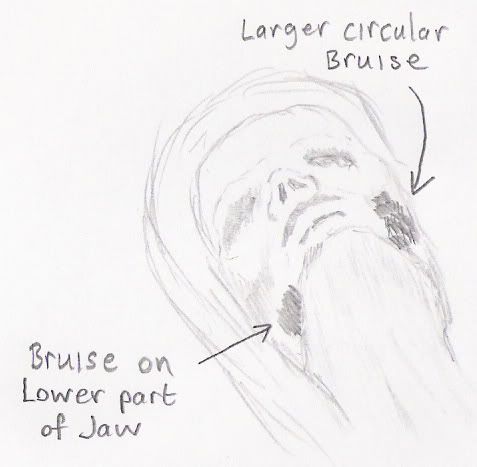 The victim has been strangled into unconsciousness and laid down, he places his left hand firmly over her mouth & chin, causing the bruises, thus:
Then proceeds to cut her throat.
Because she is not dead at the point when he presses down on her jaw then the damage to the tissue is done while blood pressure still exists in the capilliaries.
You may think this fleeting period of time is not suficient to cause bruising, but it is not the time it takes for the appearance of bruising to surface which matters. Bruising is known to appear on a body after death. What is important is the time when the damage (pressure) is done (applied).
All we are left with it seems is a series of sort of odd choices. Choking someone unconscious before cutting their throat is odd. The bruises are odd.
Strictly speaking, choking is an internal effect, something blocking the windpipe, either intentionally by an object being forced down her throat, or by accident, by food.
Strangulation is the external effect, either by hand - Manual, or Hanging, or by ligature.
I was arguing on another thread that strangling your victim into unconsciousness while you are carrying a knife is, odd, unless the killer actually derives pleasure from the act of strangulation. Why else would he bother to fight and struggle using considerable effort when he could have simply stabbed her to death and avoid all the potential noise and scuffle, not to mention time-wasting, that strangulation entails.
As luck would have it no-one heard their struggle, but he wasn't to know this.
Regards, Jon S.