What happened to Louis Diemschutz' pony and cart, after he returned to Dutfield's Yard?
After discovering the body and going inside the club to find his wife and alert other members, Diemschutz claims to have gone off searching for a policeman, over a distance of a few blocks, fails to find one, and then returns to the scene of the crime. By that stage other men, and shortly after, Constables, are with the body, followed several minutes later by doctors.
Okay, so what is done with the pony and cart, which must surely be making clear access to the body much more difficult than necessary? Reversing out of the yard would have been almost impossible, as this video indicates.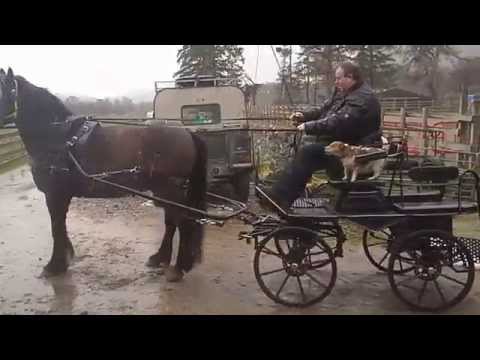 The slightly annoying dog points to the difficulty of coordinating the backward movement of the horse. This is far from being a straightforward exercise! Consequently, it must be supposed that the pony and cart stayed right along side Elizabeth Stride's body during her examination by police and doctors, or were moved to the back of the yard, at least until the body had been removed.
Diemschutz claims to have left the yard once doctors had arrived, and gone back into the club to continue with his duties. However, between the period of constables and then doctors arriving, Diemschutz manages to get a good enough look at Stride to later describe her dress standard, in comparison to Annie Chapman, the position of her hands, and what her hands were holding. He sees both a doctor and constable place a hand on Stride's chest, and estimates the amount of blood on the ground. This suggests Diemschutz was not asked to move the pony and cart, giving him plenty of time to make these observations. Furthermore, this period supposedly also includes being searched by police.
How does Diemschutz make all these very specific observations, with his own cart right in front of the body, in an area dark enough to require a candle to even make out that what he had discovered on the ground was a human body?
Another query I have about Diemschutz' account, is the prodding of the body with the handle of his whip. He claims to attempt to lift the body (not knowing it was one, of course) with the handle, while still seated in his cart. Has anyone tried to recreate this scene? On doing so, it might be discovered that a handle of several feet in length would be necessary to attempt to do what Diemschutz claims to have attempted.